Retina Specialist – Why should I see one?
By Chris Stelton October 9th, 2016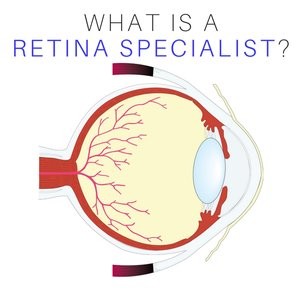 A retina specialist is a doctor who has specialized in ophthalmology and has sub-specialty training in the medical and surgical treatment of diseases at the back part of the eye.
My regular eye doctor sent me to a retinal specialist.  What is a retina specialist?
A retinal specialist is an eye physician whose focus is primarily on the structures at the back part of the eye.  Retina specialists often work in conjunction with general ophthalmologists, medical retina specialists, optometrists, and other eye care providers.  They treat eye diseases in the office and can go to the operating room to fix some eye problems with surgery.
What type of training does a retina specialist have?
Retina specialists go to medical school.  Retinal specialists have advanced medical training after medical school including 1 year of internship, 3 years of ophthalmology residency, and an additional 2 years of vitreoretinal surgical training.   They can interpret sophisticated imaging of the back part of the eye like optical coherence tomography (OCT) or fluorescein angiography (FA).
What types of diseases do retina specialists treat?
Most commonly, retina specialists treat complex eye diseases like eye floaters, macular degeneration, retinal detachment or tear, or diabetic eye disease.   Due to their advanced training, they deal with many problems which can lead to blindness or loss of vision and can offer both great advice and treatment.
What types of surgery or procedures do retina specialists perform?
Retina specialists perform intravitreal injections for diabetic retinopathy or macular degeneration.  They can perform lasers for retinal tears or detachment.  They perform vitrectomy surgery for many eye issues including:
retinal detachment
epiretinal membrane (ERM)
posterior vitreous detachment
intraocular bleeding (vitreous hemorrhage) from diabetic retinopathy or macular degeneration
---
Chris Stelton, MD is a practicing retina specialist in Sarasota, FL. If this article has helped you, share with friends and family by using the buttons below!
Diabetic Retinopathy